When you hear
"commercial lines comparative rater,"

what comes to mind?
"they have a limited appetite"

"they won't save me time"

"the rates aren't accurate"
The size and types of accounts that can be successfully quoted on Tarmika is broad!
Our platform supports
20,000+ business classes*

+ can

quote and returns over $50k in premium

thanks to the API integrations with our carriers.
*Using NAICS 2017, SIC codes and carrier proprietary class codes
You shouldn't be discouraged from attempting to submit a lessor's risk or contractor, thinking it is not "BOP-able" business. You can find our top quoted businesses classes below — this is what our users are quoting!
Tarmika has expanded to support 6 lines of business and submitting to Excess & Surplus markets. Don't forget — these coverages can be quoted in a combined flow* to help eliminated duplicate entry. (*with the exception of BOP and GL)
Lessors of commercial buildings (except miniwarehouses)

Restaurants, full service
Lessors of office buildings (except miniwarehouses)
internet retail sales sites
Janitorial services
Insurance agencies
Landscape care and maintenance services
Handyman construction service, residential building
Fast-food restaurants
Home renovation
Lessors of Apartment building – Over 4 families with no office occupancy
General automotive repair shops
Electrical contractors
Liquor stores, package
Plumbers
Convenience food stores
Office building rental or leasing
Residential Condominium owners' associations
Hardware stores
Automotive repair and replacement shops, general
Business Owner's Policy (BOP)

Worker's Compensation (WC)
Commercial Auto (CA)
General Liability (GL)
Cyber Liability (CYB)
Professional Liability (PLIAB)
Excess + Surplus (E&S)
We also pulled some data to show you the
distribution of premium size

​of

successfully submitted quotes on Tarmika: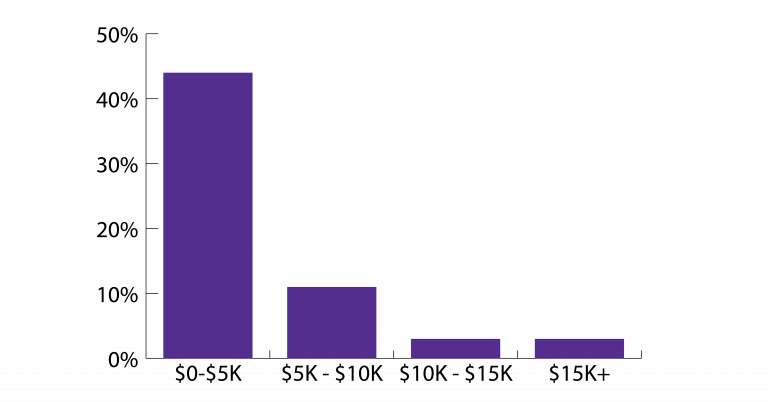 % of total quotes compared to quoted premium range
Whether you're a current user of the platform or are considering it as an option, hopefully this helps to broaden your understanding of what can be quoted on Tarmika. Our team will continue to improve the user experience so your agency can utilize it to its full capacity.